Two Rivers Bag Tag Series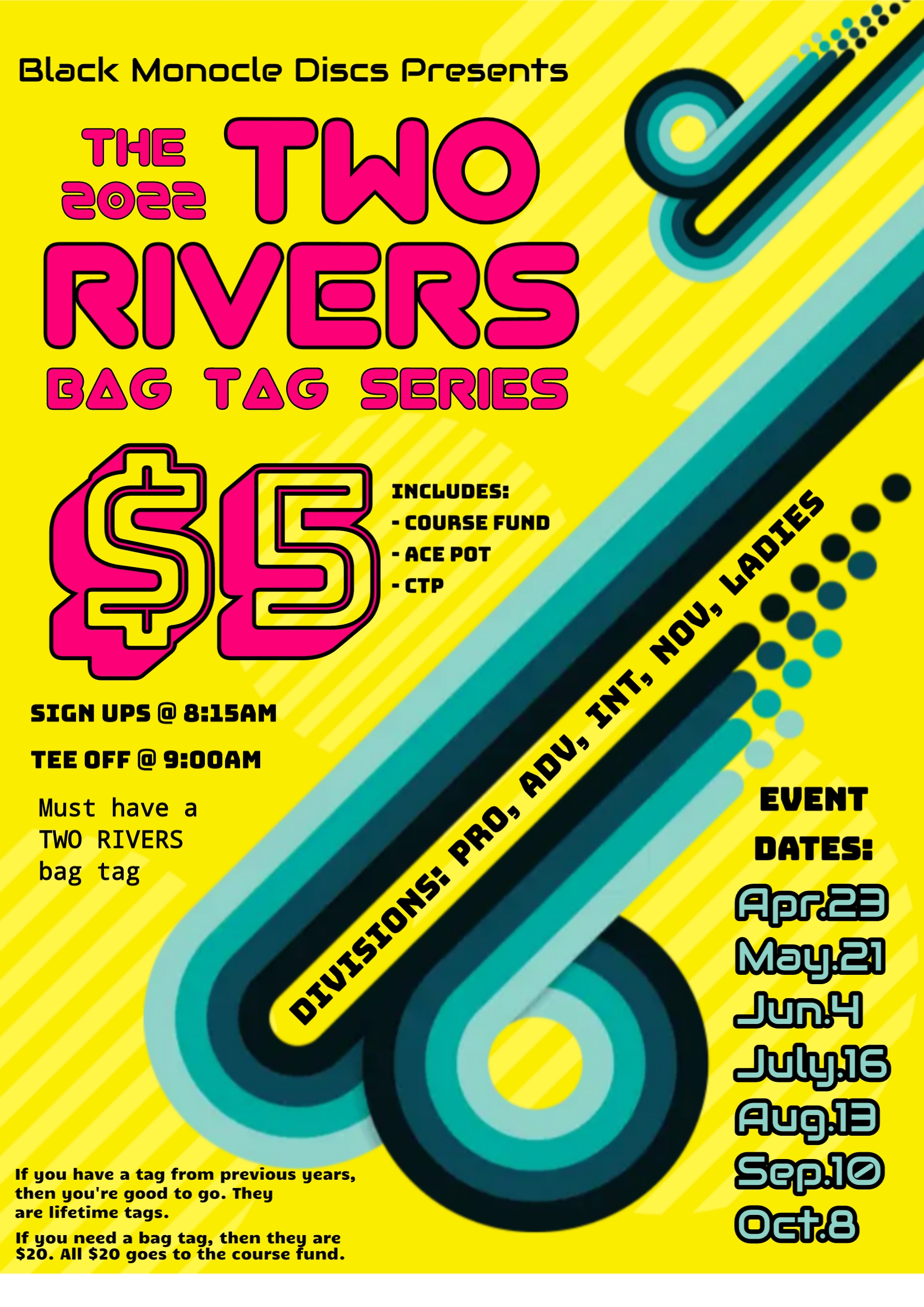 2022 Two Rivers Bag Tag Series
To help raise more funds for the Two Rivers DGC, we are running another fundraiser bag tag series! All the events will be on Saturday mornings on the dates posted in the flyer.
8:15AM - SIGN UPS/CHECK-IN
8:50AM - PLAYER'S MEETING
9AM - ROUND START
Entry fee will be only $5
• $1 Course Fund
• $2 ACE pot (Will carry over to each event). If no one gets an ace by the end of the series, the ace pot will be donated to the course fund.
• $2 CTP 
•The Two Rivers Bag Tag will cost $20 (one time fee), and you must have a Two Rivers Bag Tag to play in these events. The bag tags are lifetime, so if you have one from previous years, then you're good to go!

• Sign-ups will be the day of. We will be accepting Venmo, PayPal, or EXACT cash!
Divisions will be:
• Open
• Advanced
• Intermediate
• Novice
• Ladies
Points will be given as follows:

• Playing in events: 5 points/per event

• Turning in a lower number tag than what you left with from the previous event: 3 points
• Winning your division in an event: 3 points
• Every person you beat in your division: 1 point/person beat (not tie)
• Finale (October 8th) points will be worth DOUBLE
• At the end of the series, we will award the TOP TWO points leaders in each division a trophy!
Bag Tag Series Points after the 2022 Finale: